When I sent J, my son, to camp a couple years ago (you know, when I didn't actually follow him there, though I wanted to), his letters were seriously depressing. I had hoped for these heartwarming letters about how he tried something for the first time and loved it or how cool his counselors were, or at the very least, he could have filled in those lazy letters, where you literally have to do nothing more than put a word in the blank. Camp is ________! Today, I went to _________ and it was _________. No such luck, his letters weren't so much heartwarming as they were heart wrenching, though I'm not sure if they were that way on purpose or not… Let's analyze, shall we?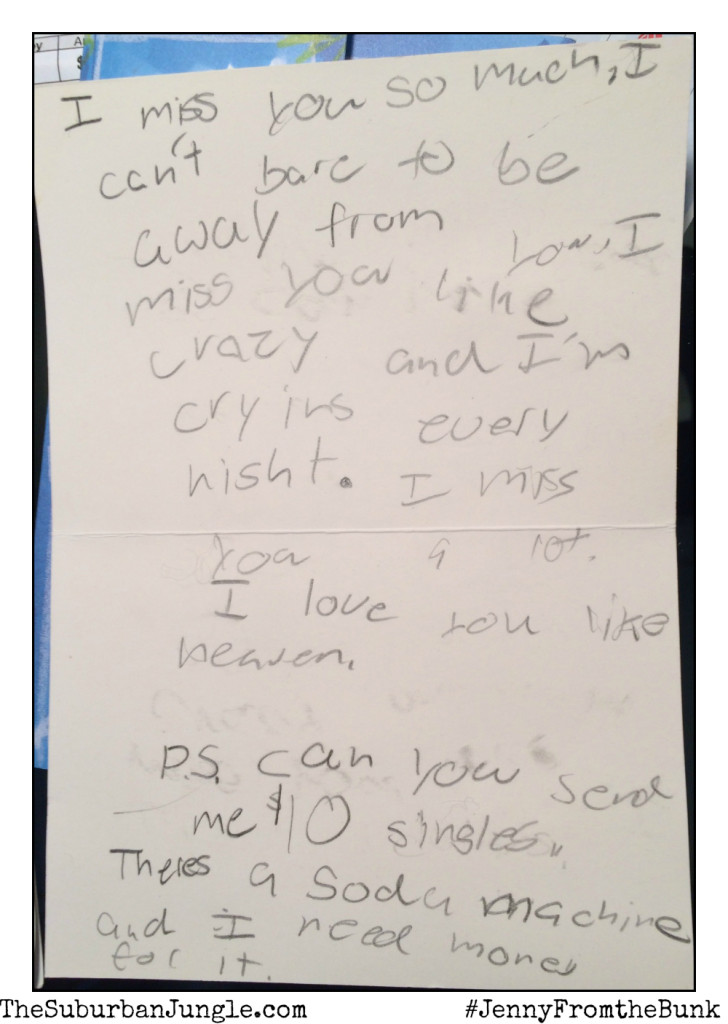 I read that and wanted to cry. Holy crap, we need to go save that kid, we could bring him home and buy him a vending machine. How much could it cost? I bet it costs less than my sanity!
"I'm gonna hop on a plane and you look up vending companies! I think we can fix this, he likes Sunkist and Sprite… maybe you should get Fanta, I think they have Fanta at camp." I said, while searching for the next flight out.
"He is having a ball, and he may deserve an Oscar," the hubs replied. He then forwarded a snapshot of the letter to friends and put some cash in an envelope.I insisted J wrote it because he was clearly miserable and the vending machine was the only thing he found joy in… nay, the vending machine was his only friend. I scoured pictures nightly, half expecting to see one with J wrapping his arms around it or giving it a high-five or sitting beside it and roasting marshmallows.
Two hundred bucks later (all relatives received similar letters), J got home from camp and asked to go back, which is when I wondered if the whole thing was a brilliant ploy that left him wealthy and on the road to Diabetes … and me rocking in a corner all summer.
PS The next year, he did not go back…
PPS The year after (this year) he did go back, and I "lovingly" tagged along. He asks me daily for a dollar. Their friendship has withstood the test of time, but I haven't seen them hanging out at a single camp event.
This letter inspired me to do something so that we could all laugh together rather than rock alone. It's called the Great Camp Letter Contest — The hilarious Jill Smokler from ScaryMommy.com is teaming up with me, which is so freakin' cool for so many reasons. We're asking you to take pictures of your letters home  — whether it's an Unhappy Camper Letter, a Happy Camper Letter, or even a single line that makes you pee a little, and submit them to ScaryMommy's Facebook page or to mine: Jenny From the Blog. Please share … and send stuff … and tell your friends with kids at camp to join in!!!