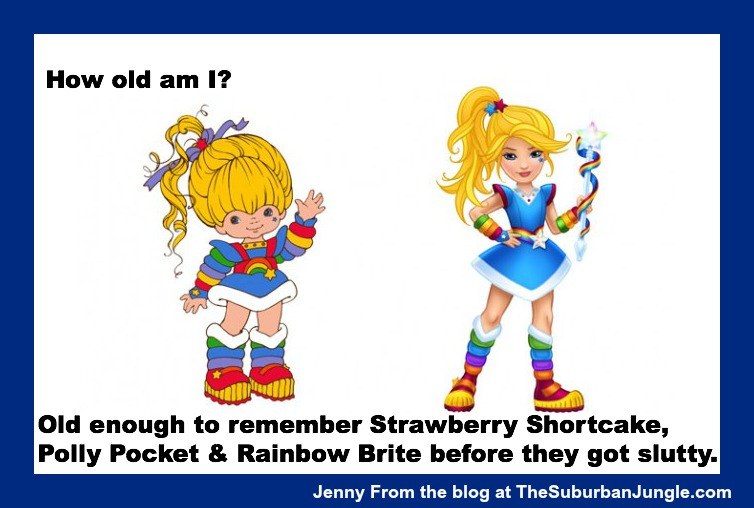 You guys probably already know this, aside from being a stressed out mom, I'm a Gen X Lifestyle Expert, which means part of my job entails nostalgically recalling all the fun things that came out from the 70s, 80s, and 90s … and I do so with love and a somewhat sick obsession. Which is why I can't understand why all the totally awesome characters that were popular with my generation needed to be glittered, glammed, and slutified for my kids.
Do you remember the innocence of Polly Pocket, how she just bent at her midsection? The chubby cheeks of a Rainbow Brite and her color gang? Of course you do, because that was what made them adorable and innocent, like we were (or claimed to be… Barbie and Ken had a lot of nude makeout sessions in my Barbie Dreamhouse).
They didn't look like they were on their way to go clubbing with Ke$ha. They didn't have curves and they certainly didn't don body-hugging unitards that Miley would call too racy for an awards show performance.
I get it, I've seen how racy and slutty are in these days, hello MTV awards.  Look, my daughter is currently obsessed with Bratz, which are pretty much the sluttiest Barbie-esque dolls ever! Not only do they scream "No means yes," their accessories include cocktails and cellphones, though it looks like some of them should come with an IUD instead … or at least a morning-after pill. To keep up with the sexified doll craze and the Disney stars gone porn, it seems the nostalgic characters of our youth are trying to enter the clubs scene, the kid's club scene, that is.
Here's proof: