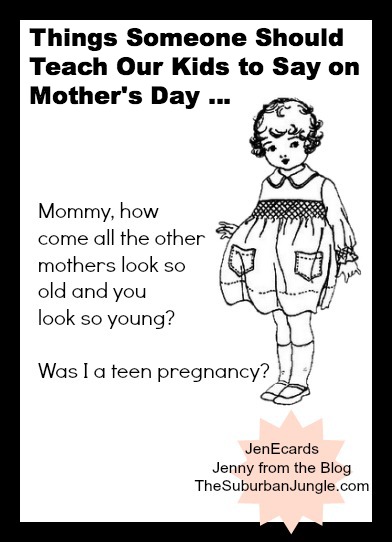 The best Mother's Day ever – the gift of laughter… I mean lying, the gift of lying. A child who's been brainwashed, ahem, slightly nudged into making complimentary statements. It's the gift that keeps on giving…
Let's face it, kids are brutally honest. For instance I had no idea my butt was so jiggly until my daughter nicely informed me. (OK fine, I knew, but I didn't need it pointed out.)
My kids also say lovely stuff like, "Mommy, I'm lucky, you're way more fun than the other mothers" or "Mommy, I bet when we go out, people think we're sisters."
When my little ones say stuff like that, the result is sheer unadulterated joy, which is why I'm inventing Rosetta Stone (Mother's Day Edition) so that we can all feel that love everyday.  Yep, I'll be putting a multitude of beautiful sentiments (we wish our children would utter) on cassette, CD, MP3, 8-Track and those odd tiny tapes that came with 80s answering machines … so that our kids (via our mates or parents or anyone else willing to shell out the $499.00 I'm charging) can be brainwashed into showering us with enough kind remarks to last a lifetime, or at least until next Mother's Day, when we'll be expecting a new piece of jewelry.
That's right, in no time your kids will be speaking fluent "Mother" with popular phrases like: "Mommy, I know I can be exhausting … shall I pour you Cab or Chard?" and "Mommy, even though you can't seem to convert fractions into decimals, I still think you're smarter than daddy."
Here are some of the other amazing things your children will be repeating like parrots in no time:
Mommy, how come all the other mothers look so old and you look so young? Was I a teen pregnancy?
Mommy, can we please run more errands? There's no bonding time that could surpass the bond of a joint trip to say, Costco, we will bond in bulk.
Mommy, I don't think I want to date until I'm 20, and I want to wear one of those creepy celibacy rings the Jonas brothers wore, because it's OK to be creepy when you abstain.
Mommy, I will love you forever and when I'm married my family will still spend all holidays at your house, heck, we'll be living next store, so it'll be a short trip.
Mommy, I promise to never ask you to drop me off a block away from my destination and pretend we don't know each other. You are my bestie and I want the world to know it, that's why I got you this Best Friends charm (pick your half).
Mommy, I think hand sanitizer and sunblock are the most brilliant inventions ever. I shall use them unsparingly.
Mommy, you shouldn't feel guilty about checking your email, updating your Facebook status, tweeting, or playing Words With Friends while only half paying attention to me. Nay nay, I'm in awe of your ability to multitask.
Mommy, I've learned that you are never wrong, which is why I will listen intently to all your advice and never claim to know better.
When I have a tantrum over a candy, toy, pet, random thing that in no way seems like something a child would want … I'm utterly impressed when you don't give in! (Also, for the times that you do give in, I promise not to tell anyone.)
Mommy, I know there are children starving, which is why I am going to eat this broccoli with total love and thankfulness in my heart … and a smile on my face and then I will have seconds.
Mommy, I'm done with my book, now I'll  just go clean my room, run myself a bath, and get along with my brother.
(And my favorite suggestion from my awesome Facebook Fans who probably think I'm going to share the wealth from my Rosetta Stone Mother Language Edition, which I'm not):  "Mommy isn't it amazing that I am never, ever bored?"
Well, help me become a billionaire … Ask someone to buy you my Mother's Day Edition of Rosetta Stone and feel free to add any phrase you'd like to hear below (for an extra grand I'll add them to your personal set). I feel the money rolling in… (And be on the lookout for the Mom of a Tween edition where you will actually get "yes" or "no" responses to questions and a trusty Grunt to English guide to decipher all the wonderful things your tween will be whispering under his/her breath!)
GO JOIN THE INSANITY ON  FACEBOOK — AND ALSO PLEASE TAKE A SEC TO SHARE OR LIKE! XO