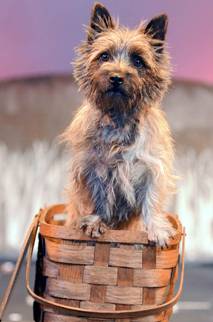 This is what I imagine the actors in the Wizard of Oz would really love to say to the audience when Toto gets the biggest standing ovation (which I saw occur).
Last week, I took my daughter to see the Wizard of Oz's Broadway Tour, and at the end of the show there wasn't much of a standing ovation. Don't get me wrong, I was totally standing, as I always do because I know the work that goes into a show. Yes, I always felt that being on stage was my true calling and yes, I was in an off *polishes apple on shirt* (fine, off-off) B-Way play, so I can totally relate.
(The way that I can relate to politicians because I was the chairman of the Parking Committee in college. Though that was mostly, to get out of paying all my tickets. Wait, this comparison to politicians is seeming less facetious than I had intended.)
Anyhoo, back to the show, that I was not starring in — the crowd was cheering, but seemed a bit fickle, until Toto ran out. Then the entire audience of 5500 people turned to mush and rose to their feet. I mean, everyone stood: Ry my 9yo daughter who had only minutes before said, "Yes, Mommy I really liked the musical … except for the singing and dancing parts," crotchety old people who snored through the performance stood, even the people in the handicapped seating section rose from their wheel chairs. Actually, I overheard one start yelling … "It's a miracle, I can walk," until his wife shushed him, while pointing at Toto as if to say, 'stop carrying on Harold, the dog is taking a bow.'
Of course, as a thespian myself, I began to empathize with the actors, who were probably thinking 'Really really? We work our asses off 8 shows a week and that f*cking dog gets a standing O every time.'
That said, this is what I imagine the actors would love to say to the audience when this occurs:
Auntie Em: I've been doing this stage gig for 52 years, it's the applause that keeps me from ending it all. You know what the applause does for Toto? Nothing, he's a dog. You want to make him happy? Come up and let him hump your leg.
Dorothy: Seriously, it's not hard. There's two swing actors shaking treats in the wings … and I have a freaking steak in my pocket… do you know how hard it is to act with a steak in your pocket?
The Cowardly Lion: Really, all Toto has to do is not take a dump on the stage and he gets a standing ovation?!?! I don't take a dump on the stage every night.
The Wicked Witch of The West: I've got nodes on my vocal chords and this green makeup has caused a case of adult onset acne that makes Justin Beiber's mugshot look like after picture for ProActive, and you find the dog shedding on stage to be a real feat?
I bet they treat Toto differently backstage too. I mean they probably all started as friends, you know how that goes (well, I do because of my vast acting experience) … but a couple standing O's in and the jealousy probably reared it's ugly head and gave way to the boozing and the drugs, I've seen it 100 times or like once. They went from rubbing his belly to hiding his favorite squeaky toy, knocking over his water bowl… kicking him when he trots unsuspectingly by.
Gossiping to the other actors behind his furry back:
Dorothy: Fucking dog, what the fuck did he do to get here?  Have you seen his Playbill blurb? I think he was an extra in a commercial for Front Line. I won an Obie for Christ's sake. *Removes steak from gingham dress pocket to reach for flask and takes swig* He gave his shout out to bacon. Thanks to my family for the long walks, and to bacon for, well, being you. He's so smug.
The Scarecrow in his real accent, which is thick and British: Seriously, I trained at the Royal Acadamy *pulls a stray piece of straw from rear of pants*  where did he train? Petco???
Dorothy: Last week he peed on the stage and I had to use my ruby slipper to spread the puddle so the audience wouldn't notice.
The Lion: That was me who peed? What? I said I never took a dump.
Dorothy:  Wait, there he is… *shushes the others* Oh hey Toto, how's things?
The Lion: What, we weren't talking about you.
Scarecrow: No, you misheard. Love your sweater.
Dorothy: DO you need me to put more Fiji in your bowl or freshen up that brandy you're carrying? No? Ok, well let's totally meet up at the after party. I'll text you.