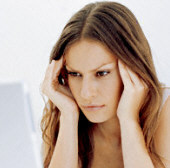 Fun fact: This is an old post that I took down because I got so much flack for being such a horrible wife. Now, 3 years later, I'm over 40 and frankly don't care if you people think I'm a horrible wife. Also, if I'm being honest, we all have our meltdowns and our horrible wife moments, if you don't than you probably shouldn't be at this particular site. PS you know who really thought this post was funny, my husband.
Hubby: "Jenny are you busy?"
Me: "Yeah, I'm writing."
Hubby: "Listen, where is that car wash?  Next to the Ale House?
Me: "Yes."
Hubby: "And where do I pull in?"
Me: "Like you're going to the Ale House, but you turn into the wash instead."
Annoying Hubby: "And which one do I buy?"
Me: "Whatever is most expensive."
Hubby that is now like another one of my children: "And then what? Do they just hand you a ticket?"
Me frustrated: "Can't you just go to a car wash like everyone else?  You get in the line and it will all be self explanatory."
Hubby who doesn't realize that I lost patience for inane questions years ago: "Because I can ask you."
Me, done with this conversation: "I think you can handle it. People go there all the time and they often leave with a clean vehicle."
Hubby who is now totally pushing it because my snideness is annoying him: "Why can't you just answer me?"
Me trying to be witty and lighten the mood: "Look you only get so many questions per day; you must use them wiser."
Hubby who does not find me amusing: "grunt."
Me being an asshole: "Ok, you pull into the lane a man with broken English will ask you which wash you want and then he'll point to a chart that describes your options in depth.  Get the one that costs the most." (his car hasn't been washed in like a year)
Hubby asking a question because he does still want info: "But not the one where they wax it right?"
Me still being an asshole, but making myself giggle: "No, just the highest of the standard, you don't need it detailed.  Then he will hand you a ticket and point you to the register which is inside the mini-mart looking building.  There you will in turn hand the ticket to the lady who speaks English with a thick accent.  She will give you a receipt and she may also give you change. This occur if and only if, you do not give her the exact amount.  Then you will go to a waiting area and sit on a bench, providing there's room.  You'll want to avoid sitting on someone's lap as it's frowned upon.  You will send work emails or text from your phone until you see your car pull out.  You may also opt to read from your Amazon library or play Ruzzle the possibilities are endless. You will do this until another man, who speaks no English what-so-ever beckons, the owner of a car that looks like yours … your car.  As you are the owner of your car, you will hand him a tip, take the keys and return to me."