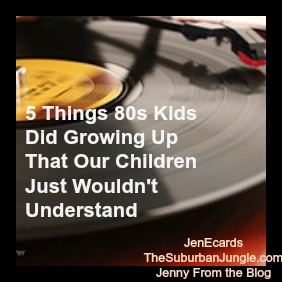 I recently made a list of crazy things Gen X-ers used growing up that are completely antiquated now.
It reminded me of the conversations I would have with my older relatives when I was growing up. The ones where they would tell these fantastical tales about things my generation would never experience or understand. Like, walking 20 miles to school … in the snow … uphill … shoeless. Or running into gypsy bandits that lived in the woods near their house or even sitting around the radio to listen to their stories.
Those sagas seemed so ridiculous to me (exaggeration aside), and yet, I'm pretty confident that my tales of growing up as a Gen X-er would sound equally ridiculous to my own offspring. Yes, I imagine these are the yarns I will spin as my kids grow up and they have kids of their own.
"Well, youngin's, you think you've got it tough with your Facebook and your Google and your iParaphernalia? Why, in my day, we had to …" Continue reading →