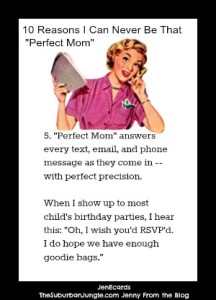 As the holidays and New Years roll around, I'm reminded of how insanely crafty and on the ball some moms can be.  They make peppermint bark and post things on Pinterest that look professionally done. They make perfectly decorated cookies and design splendorous holiday scenes and dioramas. Really? a diorama???
Look, I have my moments, but I'm speaking of a specific mom we all know, the "PERFECT Mother." She's president of the PTA, she plans all the fundraisers.  She bakes homemade goodies from scratch for bake sales. She has a position on every board. She recommends who should be room mom to all the teachers and you can pretty much call her for any bit of information. I like to joke that if you need anything changed, explained, or rerouted, you could call her and it would get done with meticulous speed and accuracy.
"Could you tell me how the Facebook algorithms work?" "How many reformers will they have at the new Pilates studio?" "Will I have to take a connecting flight on my trip to Utah?"
I also like to imagine that she walks around with a Tide Stain Stick, righting the wrongs of the slovenly.
As much as I would like to be involved in every facet of my child's life, and on top of every box top collected or Fun Run ran, I will never ever be that chick and there are a multitude of reasons why. Here are a few: Continue reading →