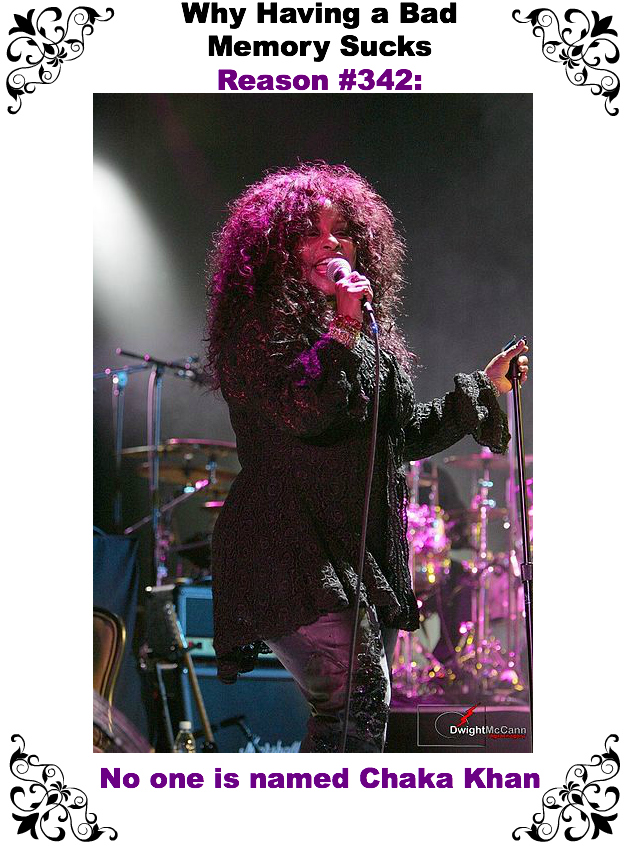 The explanation for memory problems #342 is actually titled: No one is named Chaka Khan. Yes, it may seem obscure, but I bet you've come across it once or twice. Well, if you, like me, have disabling brain fog (due to having once birthed a child, meds that don't agree with your mind, or maybe some kind of Gluten sensitivity). I'm not saying I have a gluten allergy, but it's super trendy to have one, so I may pick one up for Fall.
So, here is why Reason #341: They Charge a Fee For Forgetting Appointments Even if You're Going to Talk to a Doctor about Forgetfulness, is no longer the final reason…
About a year ago, I met a girl who lives in my neighborhood while we walked our dogs.
She has a beautiful Dalmatian and I, of course, have an even more stunning Australian Shepard.   I ran into her again last week, and not only did she remember my dog, she remembered my name.  "Hey, you're Jenny. We met walking a long time ago. I really love your dog, he's stunning."
Me: "Sure, you look so familiar, but the dog is new, right? (Surely, I would remember a big hulking Dalmatian.)
Girl: "Nope, same dog."
Me: "Yes, of course. Who would forget a big beautiful Dalmatian?"
I asked her name, with little embarrassment (as it had been a year), and I walked away.  I was so impressed that she had remembered mine, I decided I should use some kind of trick to remember hers. You know, like the stuff Mary Lou Henner talks about?
Or is it Mary Lou Retton?
Shit, I can't remember.
Anyhoo, some kind of word association or I could draw a picture  in my mind and caricaturize one of their attributes.
Unfortunately, by the time I rounded the corner, I had forgotten what even her most prominent feature was and I had also forgotten her name, but I could narrow it down to two, if you held a gun to my head. So, I picked one and tried to associate it with something.
Sadly, the name ('m pretty sure was hers) didn't rhyme with anything, or remind me of anyone. I've never had a friend with that name and I couldn't even think of a celeb with it. The closest I could come was Chaka Khan. So, for 8 seconds, (that's how long they say it takes to take something from short term to long term memory) I focused on her blurry features and sang "Let Me Rock You Chaka Khan" in my head. Yes, I will think of her as Chaka and then it will spark my memory.
Well, today I ran into her again. She seems to be around a lot, right?
"Hey Jenny, how are you?"
Fuck, what is your name? I know I related it to a singer. Something that makes me think of Prince. Damnit'
Right, Chaka Khan.
So your name must be ….. I got nothing.
Why the hell would I use Chaka Khan as a reference? NO NAME SOUNDS LIKE THAT!
Could it be Jackie? Shakira? Shaconni?
OK, Jenny Shaconni isn't even a name.
I GIVE UP.
"I'm great … and how are YOU?"
We chatted for a few and I called a friend to find out the name of the chick with the Dalmatian.  And the answer is Shannon. Why the hell would I associate Chaka Khan with Shannon? "SHA" sound in the beginning and an "onn" at the end? Frankly, I don't know.
I realized that the only thing worse than my memory is my association skills … and so, all new people I meet shall henceforth be called Chaka Khan. It's kinda brilliant, really how could one take offense to that … or even respond to it, for that matter?
"What's up Chaka Khan, how's the fam?"
(What are they gonna say, "My name's not Chaka Khan"?)
Well duh, no one is named Chaka Khan, except Chaka Khan, dumbass.
If You Feel Me, Go Ahead and the Post a Like
If You Can't Like it Because You Don't Recall What You Just Read, Join the Club