That's my confession. Barbie hasn't fiendishly ruined my daughter's self image — quite the opposite — she's helped her learn to solve problems, to be accepting, to stretch her imagination, and to have compassion.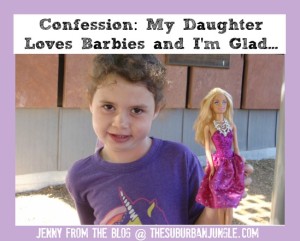 As a card carrying Gen-Xer, I had an obsession with Barbies. I played with them until I was nearly 14, which I try not to admit in public because at that age, your Barbies are basically having make-out sessions that lead to awkward Barbie hookups, which is both ironic and also impossible – hello, has anyone seen Ken's crotchal region? 
I was always a brunette Barbie who wore a fashionable red and purple lamé  jumpsuit, with a
shiny buckled sash.  My boyfriend was the lesser known Jimmy Osmond Barbie – the most underrated of the Osmond siblings – and the one who looked most like my elementary/middle school crush, who completely ignored me in the real world.
However in my pretend world, he was sooo into me, I mean borderline stalker. In that world I wasn't insecure about my looks, or boys, or friendships. On some level, I was learning, through play, to speak the way someone with innate confidence would speak.
When I was asked by Mattel to be part of The Barbie Project, which is about how Barbie is magical to each of us, it was as if the stars had aligned. As someone who clearly loved playing with Barb (we're that tight), I was tired of hearing about how she was anti-feminist. I was tired of hearing about how she was setting unreasonable expectations for little girls in terms of beauty, and I was tired of hearing about how it was cliché and unimaginative to enjoy her.  Barbie was an amazing avenue to unleash my creativity and dramatic flair, and she boosted my self esteem … was I supposed to have my daughter steer clear?
Puh-lease! I couldn't wait to introduce the two of them. Thankfully, Ry, who is now 9,  got the "Barbie gene," and her love of dolls and make-believe started early, and with unrelenting enthusiasm. What she didn't inherit from me, was the insecurity gene, and as a result, her games were creative, confident, and hilariously mature. Unlike my Barbies, most of Ry's Barbies are actually dressed and her doll drawers are void of a single experimental Barbie with her hair cut down to the hair-plug looking scalp.
Our Barbie interactions are often reflections of what is starting to occur for her — friends forming cliques, friends feeling that Ry is ignoring them or visa versa, and what it means to be truly popular — as in someone who is liked by many people because they are not only fun, but also compassionate, charitable, empathetic, and inclusive. She loves to see the underdog prevail and often has me play a bully, a cheating boyfriend or a mean girl who wants to be friends with her, but deems her other friends to be unworthy.  Then she overcomes each situation with surprising maturity and great poise.
The best indicators, that there's an impact on her values through play, are the unexpected "do-overs." That's when Ry says something and my response (as another Barbie) allows her to see how it came across – which often leads Ry saying "pause game" (I know, I love when kids pause things that aren't electronic) and she rethinks her phrasing and says, "pretend I didn't say that, but instead this." Her play is in many ways responsible for the person she's becoming and the lessons she's learning.
I assure you, a lecture from me, or getting her to open up about some of these situations, or sitting her down to watch a bunch of "The More You Know" type PSA's would have never been so successful. There is a magic to Barbie that goes so far beyond her perfect hair, her wardrobe and her jets and her beach babe friends, and I truly think you're lucky if you get to experience it.
Do you feel me on this one? What has Barbie done for you? And you if you had some random Barbie as a kid, I kinda need to know (PS – I had all the Osmonds, The 6Million Dollar Man, The Bionic Woman, and a Mork from Ork – Just sayin')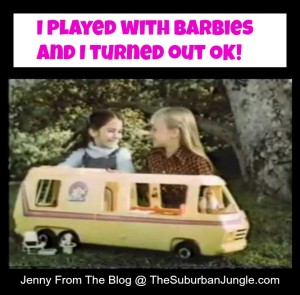 Be AWESOME, GIVE IT A LIKE IF YOU AGREE WITH THE SENTIMENT –
there are lots of us out there!
Thanks Barbie for choosing me to be a part of something I feel like I've always been a part of!  Learn more about The Barbie Project with the hashtag #BarbieProject