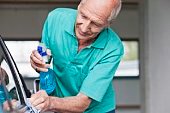 See how polite I'm being? Calling him an elderly gentleman and not an old curmudgeon? No, that would be rude and I am not rude. Well, unless you consider running a poor old curmudgeon over with your car "rude." Then yes, I may be rude, but I have an excellent vocabulary and that has to count for something.
Well Judge, my infraction was merely that. I was exceeding the limit by a minuscule measurement as my true intention was to get the minors in my vehicle to an establishment of learning to imbue their gray matter with knowledge.
My lady, (This is a Parliamentary court in the 1700s, obviously.) your grasp of the English language is truly inspirational. Clearly, a logophile such as yourself could do no harm to our language, let alone an old curmudgeon. NOT GUILTY!
(BTW: A logophile is a lover of words and vocabulary, which I wouldn't have to define for you if you were one.)
Moving on. My neighborhood is rife with inconsiderate speeders during morning carpool. Especially the first couple weeks! Most of my neighbors have kids in elementary school and being that our development is exactly .1 miles short of the school bus cutoff; we're all trying to get to the same place at the same time (anything shy of LATE).
The fact that this elderly gentleman was in this neighborhood in the first place leads me to believe that he must've wandered in from somewhere with a minimum age.
Regardless – as the busy moms sped around beeping from door to door, it was I that mowed this man down. I must have been going at least 30MPH, which is fast in an area that has a sign that reads "slow children at play".
I don't know if they're just not quick or there's something wrong, but there are enough of them to require a sign.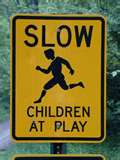 Frankly, someone should try and speed these kids up. Maybe if they got rid of the knickers and padding reminiscent of a 1908 football game and gave out some bikes. The sign could simply read: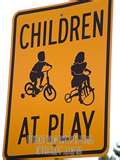 (Let's be honest, these tykes don't look so speedy either. Nor do they seem to have the latest in outdoor play equipment. Razor anyone?)
But I digress. The elderly gentleman in my story was not walking on the sidewalk, but on the street and going against traffic, no less. He held up his arm in what I took to be a friendly, hello. I waved back, pretending to recognize him, as I do with all my neighbors. Plus, he was pretty darn old, so maybe he thought he knew me. When I was about to pass him, he flung himself to the sidewalk as if narrowly escaping a careening boxcar. I guess that wave was really the international, "Slow Down Crazy Lady" sign.
Oops, I didn't recognize it without the shaking of a cane, though he did seem a bit melodramatic.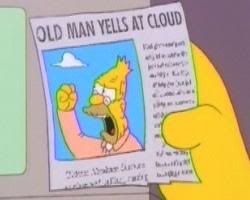 I guess the main question is: Did he pitch himself to the curb or did I send him hurling to the sidewalk? I didn't hear a thud; that's always a good sign. Though it's hard to hear much over the din of 6 elementary schoolers trying to one up each other.
Kid 1: I have PE today.
Kid 2: Yeah, well I had it yesterday and 2 kids in my class got lice from sharing bike helmets.
Kid 3: Yeah, well 4 kids in my class got lice and I sit next to one of them… who also has braces.
Kid 4: I'm getting braces.
All other kids: Lucky!
Kid 5: Yeah, well I have glasses.
All other kids: No fair!
Kid 6: Well, I may have scoliosis!
All other kids: Why can't we have scoliosis?! (creepily said in unison)
Me: Hey, could someone look under the car for an old man?
Me Answering Myself: Huh? (I tend to answer myself in carpool, as no one pays attention to the driver.)
Still Me: Forget it.
Did I hit that elderly gentleman out for a morning walk? I can't say for sure. I didn't see any wrinkly parts in my chassis.
Wow, there's a sentence that could be taken out of context!
Did I mean to run him over? Certainly not.
Do I think he was being melodramatic? A little bit.
Am I spraying out my car for lice? Without question.
(PS no elderly people were harmed in the writing of this blog… I can't say as much for lice)
xo
-Jenny From the Blog