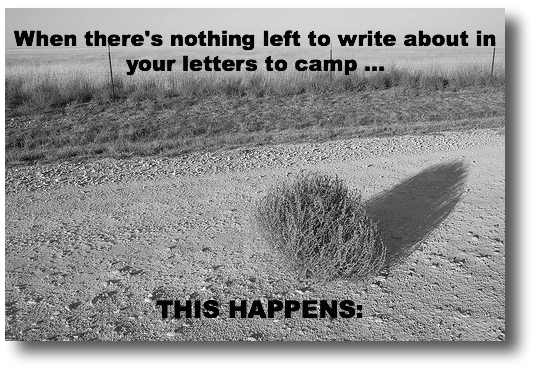 Dear Readers (Day 19 – 24 at Camp Lenox),
As we all know, the best ideas are generated during periods of total and utter boredom. Also, in the shower but there's never anything to write with so, I imagine lots of great inventions are washed down the drain. Like time machines and renewable toxic waste…
Well, this is one of those brilliant ideas that I dreamed up and had the good fortune to get on paper. PHEW.
BTW, someone needs to invent a pad and pen that you can write with in the shower…
With the advent of camp emails and bunk notes, it's never been easier to keep in constant contact with your camper. Unfortunately, it's you contacting them and not so much them contacting you. I should know, spending this summer at camp, I realize that my own great intentions to write letters were squashed by one of my other great intentions —  to enjoy camp. Yes, speaking in your camper's defense, camp is tiring and non-stop, and like being on a constant roller coaster — the last thing anyone wants to do is screech all that fun/energy to a halt to write an update. Also, so much happens in a day that when anyone does sit down to write it's almost daunting to try to recap, hence the one liners: "Camp is fun."  
That said, I get the plight of the parent as well. Unless you're rock climbing, getting up on water skis for the first time, tipping canoes, having bonfires, talent shows or raucous games of Name That Tune around the house, the whole we write you and get nothing in return is an oxymoronic phenomenon. Continue reading →