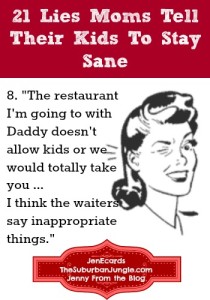 Last Sunday, as we drove home after a long baseball tournament in a heavy downpour, my kids suggested we continue this tedious day and go see a movie. Frankly, my eyes were closing just thinking about my cozy bed and if I wasn't the one driving, I think I would've passed out cold.
Me: "Um, sorry guys that's a great idea, but they don't show movies after 8PM on Sundays. Maybe tomorrow."
Yes, I'm always quick to throw out a creative, well placed lie. my daughter paused for a quick sec to access the statement, and confident in its validity, went back to whatever she was playing my iPhone. My son went back to his phone too. After a short pause, he said, "Yes, they do, there's an 8:25."
Damn you interwebs from ruining the only sanity saver I had left!
I'm just gonna come right out and say it. Moms lie! We do — Continue reading →