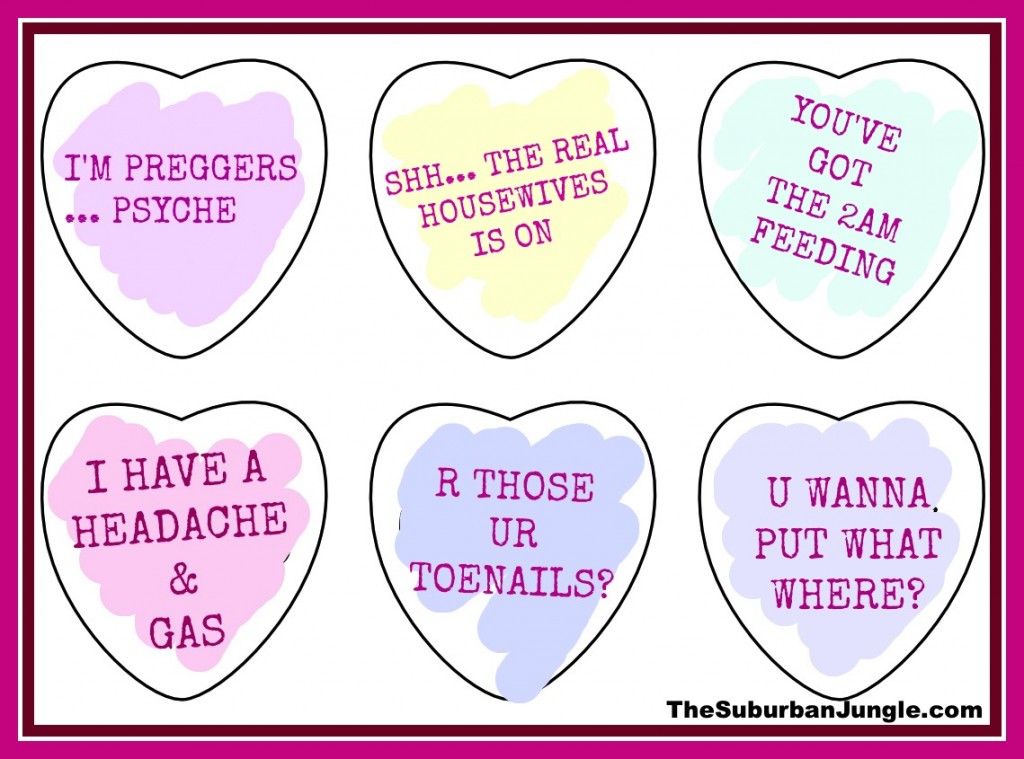 I've had some awkward V-Day Moments, from my 5yo trying to soap opera kiss me to my hubby trying to stuff himself and champagne into an undersized NYC bathtub in our undersized NYC apartment to my dauther telling me, I make her want to "puke of love". That said, I've decided this year will not be awkward. No, we will all be realistic in our planning and our phrasing.
As I picked up a pack of those V-Day conversation hearts (the candies that are supposed to represent the sweet nothings you would whisper in your lover's ear before bed, like: I LOVE U, B MINE, KISS ME…), I thought, this is anything but realistic phrasing. Those sayings are more saccharine sweet than the candy, so I made a list that resembles real pillow talk. These are the phrases that should be etched on those cute little hearts, after a few years of marriage.
Be warned: this list is not for newlyweds, so you can refrain from reading and telling me how blissful your marriage is. Give it a few years. Ahem- I mean, I'm happy for you.
WIFE CONVERSATION HEARTS:

HE GETS THAT FROM UR SIDE
YOU WANNA PUT WHAT, WHERE?
COULD U BE MORE LIKE ADAM LEVINE?
I'M PREGNANT … PSYCHE
R THOSE UR TOENAILS? Continue reading →