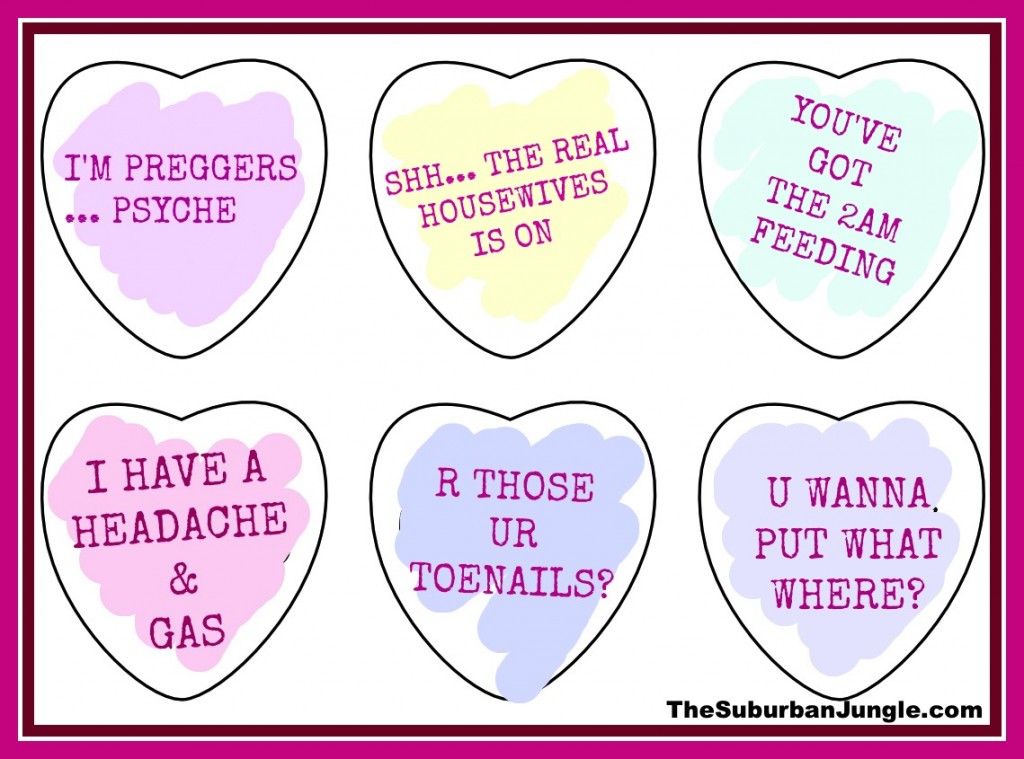 I've had some awkward V-Day Moments, from my 5yo trying to soap opera kiss me to my hubby trying to stuff himself and champagne into an undersized NYC bathtub in our undersized NYC apartment to my dauther telling me, I make her want to "puke of love". That said, I've decided this year will not be awkward. No, we will all be realistic in our planning and our phrasing.
As I picked up a pack of those V-Day conversation hearts (the candies that are supposed to represent the sweet nothings you would whisper in your lover's ear before bed, like: I LOVE U, B MINE, KISS ME…), I thought, this is anything but realistic phrasing. Those sayings are more saccharine sweet than the candy, so I made a list that resembles real pillow talk. These are the phrases that should be etched on those cute little hearts, after a few years of marriage.
Be warned: this list is not for newlyweds, so you can refrain from reading and telling me how blissful your marriage is. Give it a few years. Ahem- I mean, I'm happy for you.
WIFE CONVERSATION HEARTS:

HE GETS THAT FROM UR SIDE
YOU WANNA PUT WHAT, WHERE?
COULD U BE MORE LIKE ADAM LEVINE?
I'M PREGNANT … PSYCHE
R THOSE UR TOENAILS?
I SAID JAKE COULD SLEEP IN BED WITH US – AGAIN
SHH … THE REAL HOUSEWIVES OF BEVERLY HILLS IS ON
SORRY, HEADACHE/TOOTHACHE/LEG CRAMP/ GAS (INSERT AILMENT HERE)
I SPENT ALL OUR MONEY ON SHOES
BE MINE, BUT CAN I BE SOMEONE ELSE'S 4 ABOUT AN HOUR OR SO?
BEING A MOTHER IS AN ACTUAL JOB
SHH… THIS IS THE MOST EXCITING ROSE CEREMONY EVER!
WAIT, LET ME TURN OVER SO I CAN PRETEND YOU'RE CHANNING TATUM
BRUSH UR TEETH IF UR GONNA LEAVE UR SIDE
SHH … ABOUT LAST NIGHT IS ON – AGAIN
U GET THE 2AM FEEDING
DO NOT EAT THOSE CHIPS HERE
IF U DID IT THE 1ST TIME I WOULDN'T HAVE 2 ASK AGAIN
MILK, EGGS, LETTUCE… MILK, EGGS, LETTU…
HUBBY CONVERSATION HEARTS:
YES, I'M LISTENING … WAIT, WHAT?
SHH… THE SHAWSHANK REDEMPTION IS ON – AGAIN
I DON'T MIND IF UR NOT IN THE MOOD, I WON'T B LONG
UR MORNING BREATH WAS ONLY KISSABLE WHEN I WAS WOOING U
I LIED, UR MOTHER IS ANNOYING
SHH… BRAVEHEART IS ON – AGAIN
DO U KNOW WHERE THE REMOTE IS?
I BET ALL OUR MONEY ON TONIGHT'S GAME
I CAN BE ROMANTIC … WANNA DO IT?
WHY R U SO TIRED, WHAT'D U DO ALL DAY?
LET ME TURN U OVER SO I CAN PRETEND UR JESSICA BIEL
I GAVE U "THE CLAP" … PSYCHE
BRUSHING MY TEETH IS FOREPLAY
WOW, U R MUCH HAIRIER THAN I REMEMBER
SHH… FIELD OF DREAMS IS ON – AGAIN
UR ON CLEAN UP
CAN U MOVE UR HEAD I CAN'T SEE THE TV?
MARRIAGE MEANS THERE'S NO NEED TO CUDDLE
And of course: I LOVE U, because if we didn't truly feel that way, we wouldn't put up with all the other stuff. Hope your V-Day is full of lots of love and happiness!
Be Awesome, Like This Post

Be "Awesomer," Take Me Shoe Shopping
Join the "snarkasm" on Facebook
RELATED STORY: I Want To Puke of Love and Other Valentine's Day Inappropriateness…