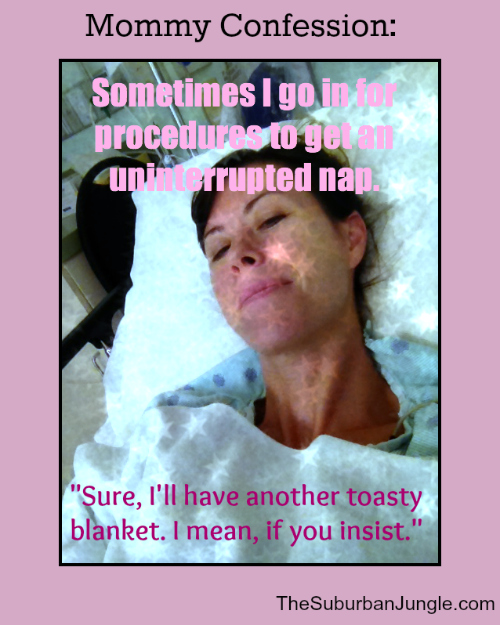 So, I went in for an endoscopy the other day, mostly because I thought it would be a great way to take an uninterrupted nap and frankly, I'll do lots of things for a nap (swallowing a camera being one of the least invasive).  Oh, also it was offered by my GI after telling him I'd lost my appetite due to a constant dull aching in my stomach and chest chronic pressure.
Well, if I'm being honest. I called him (he's a friend) to ask what was going on and by the time he got back to me I'd unfortunately already found the amazingly addictive WebMDsymptom checker.
That's where hypochondriacs, like myself, are rewarded with affirmation that their hangnail may or may not have gangrene or their inability to remember names is probably due to Gulf War Syndrome.  After a few clicks of filling in symptoms, I was pretty sure I either had GERD or I was going into cardiac arrest. Another reason to keep a defibrillator around the house. (Those things pay for themselves.)

Aside from the amazing nap and the warm blankets, I had them refresh as soon as they lost their heat, I found out I've developed two ulcers and a hiatal hernia – AWESOME. I know, I just wrote about how carbs are the devil in, Carbs Are Like That Hot Guy You Loved in The 80s, and I still believe what I wrote, but since going off the flour and grains these issues have arisen.
I'm not saying it's related, though the stress of finding things that are carb/Gluten free is not to be underestimated. Add 2 kids a dog, an attack kitten, a job, a hubby, OCD, and a healthy dose of generalized anxiety to the mix and frankly, it's a miracle I've held out so long. Now I can say, "You're giving Mommy an ulcer," with real authority (I know you're jealous).  Let's face it — It's always fun to say, "I told you so" to your kiddos.
Though I don't know if it's worth it — As it turns out the diet one must keep for ulcers and a hernia — plus me cutting out carbs pretty much leaves me a menu of like, lint and paste. I only say that because they were not on the list of things I can't eat and they seem pretty harmless.
The lists of what not to eat for an ulcer or for hiatal hernia (combined) looks something like this:
Meat, anything that was once alive, anything that was never alive, anything spicy, honey, sugar, icing, fillings, acids, bases, things that grow in the ground or on a tree, nuts of any sort including food that seems crazy, raw veggies, cooked veggies, dairy products or anything that has ever seen a cow or been in the vicinity of a cow, things you could fit in your mouth, fruit drinks, drinks with caffeine, drinks without caffeine, alcoholic beverages, beverages that are made to seem like they have alcohol but don't, anything that could be served in a coconut with an umbrella or mini-sword, drinks that are wet.
What I can eat: fiber and whole grains (which is exactly what I stood on my high horse about not eating last month). Seriously?
While I'm still trying to avoid grainy carbs, there's really no telling when I will inevitably snap.
Which is why I feel it necessary to mention that I seriously may kill for a sandwich … Oh, I mean it, and not in the exaggerated way people say, "I'm so hungry I could eat a horse." I mean I may legitimately pull out one of those stupid toothpicks that holds your sandwich together and stab you in the throat with it.
This is why I need naps — to forget that I'm old and "ulcery" and not quite as heathly and nimble as I was at 20 or 30 or yesterday. Also, to make me feel less like stabbing someone with a sandwich toothpick!
I'm thinking of getting my wisdom teeth out next.
PS – Did I mention the lists of what "not to do" include positions that I should not be in — You know, for optimum comfort? I should not lean forward, bend down, crouch, lie down unless on a 75 degree angle , jump, bounce, jog, or lean to the side.
All of the above taken into consideration, here is your warning:
If you see a person doing a half back-bend while ambling and eating dust covered paste, hide your breads and baked goods, or you may die.
XO – Jenny From the Blog
Let's Take a Poll: What have your kids given you?