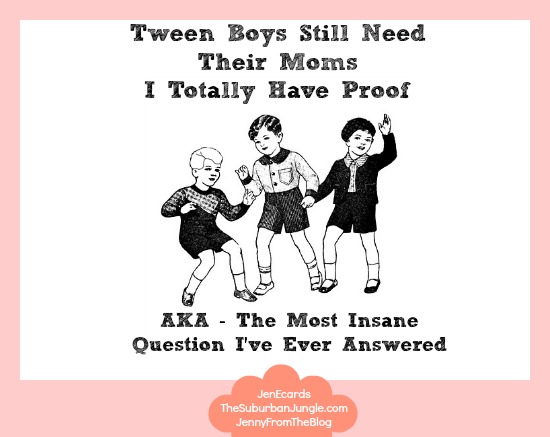 Last night, on the eve of my son J's 12 birthday, he called me into his room.  As you guys know, I'm obsessed with the fact that, as our sweet boys grow up they need and want us around less and less… I worry about the bond of Mothers and sons and struggle with the knowledge that they'll eventually be stolen away by some hussy, I mean their future wives. (See – Moms of Boys are Jealous Shrews, for more on that.)
Let's just say, I spend a great deal of time rocking in a corner reminiscing about reading J bedtime stories and hearing him rattle off (in one breath) all the things the Very Hungry Caterpillar ate (how he learned the days of the week) and watching him dramatically gasp for air as if it was sooo hard to talk so fast … and beam with pride, as if he hadn't done the very same thing the night before that and before that and bef…
Needless to say, nowadays, when he calls me in to talk, I drop everything and run to his door.
Then I collect myself, take a deep breath and enter slowly and nonchalantly, as if I was passing by anyway. (See, When Your Tween Pays Attention to You – Act Natural, for more on that.)
J: Mom, I have to tell you something crazy.
Me: Yeah, OK, I guess I have a minute or two.
J: At lunch everyone is soooo inappropriate. They talk about all kinds of things … and in front of the girls. (He said, implying girls should not have to hear such profanities … I do love my wide-eyed little boy.)
Me: (Trying to help him maintain his sense of ethics, but not come off like a total prude in front of his friends.)  Like cursing? Cuz that's no biggie.
J: … and the girls are sometimes more inappropriate than the boys! (He said, ignoring me, and making it clear his new revelation about girls was somewhat shocking … These are the times I wonder if he's Amish.)
Me: Welcome to the world, my love. Girls aren't always as sweet and demure as they look (please never read my blog). In middle school, cursing is like learning a new language.
J: I'm not talking about cursing, I'm fine with that,  I'm talking about motorboating.
Me: I'm sorry what? (That is not what I expected.) Are they actually motorboating or just talking about it?
J: No, talking about it. Well, I don't know … I mean, what exactly is motorboating?
Howww sweet? My 6th grader needs my help. Fine, he doesn't need to know what day comes after Monday, or what colors can be combined to make green, but he needs to know what motorboating is, and I shall tackle this as I would any pertinent query.
Of course, I knew this day would come. I said to my husband on the eve of J's 1st birthday:
"You know, one day this cute little nugget will ask where babies come from and before we know it, he'll want to know about the birds and the bees … and sooooomewhere in between he'll probably ask about motorboating. Will we be ready, honey? Will we be able to give him everything he needs?"
Mark: We will answer each of his questions with the level of honesty that is applicable to his age… we will be mature … we will be sophisticated.
Me: Forsooth, we shall be ready. (We were really formal in 2002.)
And last night, when a new test of Motherhood was set upon me … I was ready.
I said, "Motorboating is when a guy sticks his head between a girls boobs and does this (then I swung my head back and forth while making a raspberry sound).
J: Really? I wasn't expecting that.
Me: Tis the truth, now go forth with your friends and be inith on the inane jokes they maketh…
I think my work is done here. AND HAPPY BIRTHDAY BABY BOY!
QUESTION: WOULD YOU HAVE DONE THE SAME???
Tell me in comments or in likes if you would've done what I did. And if you've done something similar, you have to share because I need to know I'm not alone here. 
Related Stories: