After a lump scare in my late-20′s, I learned that all lumps are not the C-word and it's totally okay to get to 2nd base with yourself!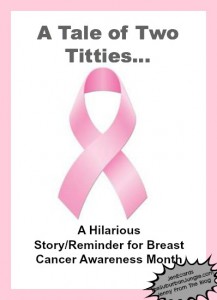 Let me tell you a tale, a tale of two titties (oh, how that word makes me cringe, but it's so much better for the pun)…
After finding a pea sized lump and getting a needle biopsy, I was told that like the several million other young women with fibrous breast tissue, I would be required to get a yearly mammogram and ultrasound.
I'd heard horrible tales of the mammogram and it's crushing pain. I feared the impending torture and dreaded that, what little my child bearing and breastfeeding had left unscathed, would be permanently altered.
By the time my appointment had rolled around, the fear of having something less benign than a fibroid cyst had started to set in, as well.  If I can produce one kind of growth with no knowledge of it, why can't I produce another kind?
While contemplating in the waiting room, I saw a woman, not a day under 100.  OK, if she can do this, so can I, I thought, resigned to get through this. Continue reading →