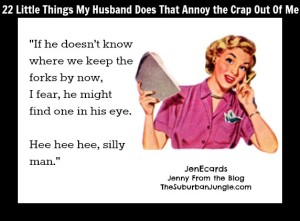 For better or worse … that's what we agreed to, right? Who new when we signed up for this by saying "I do," that our mates would become so annoying?
Sure, we love them, but let's face it, when you live with someone day in day out for what feels like an eternity, the little quirks that were once endearing, or at least easy to ignore, can become somewhat irritating, exasperating, irksome, maddening, and grating. Have I said too much?
Last week, my husband — who has pretty much no idea how to use most of the items in our home or where we keep them for that matter — screamed from the kitchen (after having a tooth extracted), "Hey honey, where do we keep the saltwater, or do we not have any in the house?" I was tempted to send him to the store to futilely search for a bottle o' saltwater simply to avoid dealing with the ridiculousness of that question, plus I needed time to think of reasons I love him.
Instead, I made you this list of annoying things husbands do (well, mine at least), for the purpose of female bonding and personal sanity… Continue reading →