When a woman, who was not carny folk, guessed my age on the nose, I realized there is NEVER any reason to hit that nail on the head… NEVER.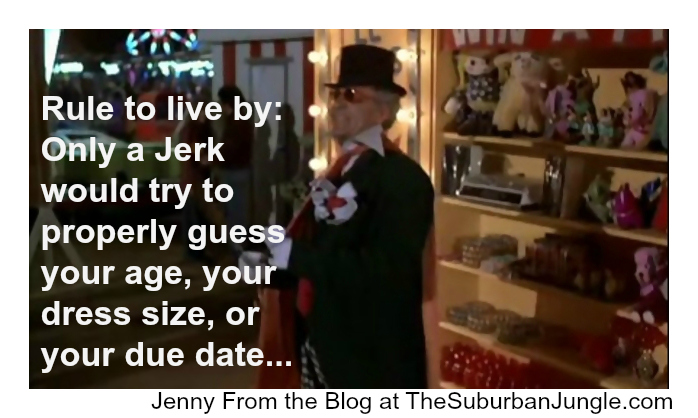 Last week, I was getting a lovely facial, as any facial should be. Wait, did I say
lovely, because I meant frightening, and horrifyingly stressful.
There, that's better.
Sure, the goal of any facial is anti-aging, but this woman looked me right in the pores with one of those magnifying thingamabobs and said, "Let me guess, you're about 41?"
"Fuck you! You, evil black-head sucking bitch!" I yelled at the top of my lungs as I smushed the Vitamin C Ester Detoxifying Anti-Aging mask, she was applying, into her eyes.
OK fine, I didn't do that, but I thought about it, I thought about it hard. I believe I said something more cowardly like, "No, I'm actually 40 and a half." Then I squeezed the tears from running down my face (as she'd have no trouble spotting them with her all seeing glass).
"Yes, I could tell," she went on smugly, as if I had asked how she knew, "because some of your pores are rather enlarged and I don't see naso-labial folds this deep in people under 40."
"Really, because I've had those marionette lines since I was a child." I said defensively in an 'I'll Show You,' kinda way. Though, it probably made me sound like I used to be some creepy Howdy Doody looking kid, instead.
Whatever, at least Howdy looked young.
As I mentally cowered, awaiting the end of this torturous (anti-aging) facial, it dawned on me that there is NEVER a time to properly guess someone's age.  Whether your 4 or 44, you want to hear that you don't look it.
There's no prize in guessing someone's age correctly. Unless you're some carny from the 1930's or Steve Martin from The Jerk. If I recall the scene, the prize was nothing you'd want to win anyway… "Anything in this general area right in here… below the stereo and on this side of the bicentennial glasses … between the ashtrays and the thimble. Anything in this three inches right in here … that includes the Chiclets, but not the erasers." Well, in my case the "prize" was a loss of confidence and the onset of a midlife crisis.
I would have rather gotten the Chiclets.
I feel like most people realize that age is a touchy subject. At least the one's who want a tip, that is.
From about birth to 20 someone saying you look older than you are is considered a compliment.
Whether it's goes like this:
"You are such a big girl, what are you about 10?"
"Nope, I'm 5!"
"Wow, that's pretty big too, you must just look 10, huh? "
Day made for your new 5 year old buddy.
Or it goes like this:
"Yes sir I am 21, don't I look it? "
"Yes, you do. That'll be a five dollar cover."
Once you hit 21, and you've got paperwork to prove it, you start to wish you looked younger. You want to look 17 when you're 22 and you want to look 22 when you're 30 and well, you wanna look 80 when you're 90. This keeps going until you hit 100, in which case, I'm pretty sure you want everyone to know you hit the centennial mark.
In fact, I think that's kind of how you'd start every sentence from that day on…
"Hey sonny, did you know I'm 100?"
"Yep, got mentioned by Willard Scott for being 100."
"Could you put a shot of Maalox in my tea, I'm a fucking hundred, you know?"
"Give me my teeth, you old whipper-snapper, I'm a century old."
I feel like I could keep doing this all day, but I'll stop. My point is, guessing someone's age should always be padded by a couple years in whichever direction will be most complimentary! THAT SHOULD BE A RULE.  
I don't care if you're a highly deductive facialist, a fortune teller, or you're looking directly at my birth-certificate – Make me 5 to 10 years younger, no matter what.
It's like my rule about never guessing what size someone wears. When I worked in a boutique, I NEVER did that thing where the salesperson sizes you up and says, "You look like about an 8, right?" Well, maybe I said those exact words, but only if I was sure that person was a size 12, at a minimum.
I also learned a similar rule applies to asking pregnant people when they're due (I learned that rule the hard way). It goes:  "I don't care if you met her in a Lamaz class, NEVER ask a woman when she is due – unless she tells you she's pregnant or you actually see the baby crowning."
PS As a tip, I allowed my facialist to pick anything in my purse … between the mini Kleenex and the and the side zipper, but not the wallet or the iPhone. Anything between the My Little Pony from McDonalds and the rogue Bey Blade, but not the loose change or the Smashbox lipgloss.
She chose an opened, but not eaten, restaurant mint.
I think it was a good choice.